Among all the features of a luggage, one of the most important is functionality. Pockets placed on the side or externally are now really common and necessary  for both soft and rigid luggage, meeting the needs of travelers to place some goods that they could need during  their journeys.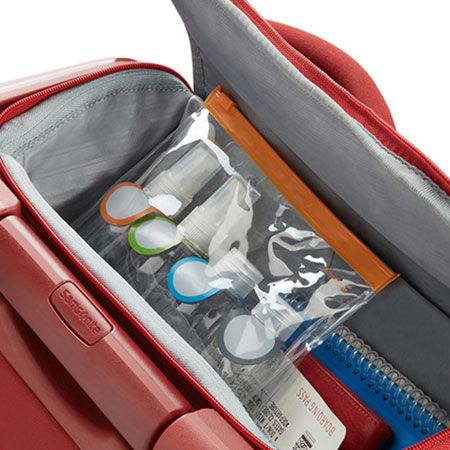 Samsonite, is absolutely one of the most innovative luggage brand and offers innovative baggage from the point of view of functionality, giving the Smarttop line with a new solution: the top pocket. Placed at the top of the suitcase, right at the top handle, the zip closure pocket allows easy access to documents, passports, books or, particularly useful, the transparent container with liquids, allowing you to pass more quickly the security check at the airport.
Although a common front pocket also meets this need, the Smarttop allows you to place the items more comfortably and without affecting the size of the baggage, generally significant in the case of low cost airlines. The space occupied by the upper pocket also takes the full advantage of the inner space between the top of the luggage and the opening itself.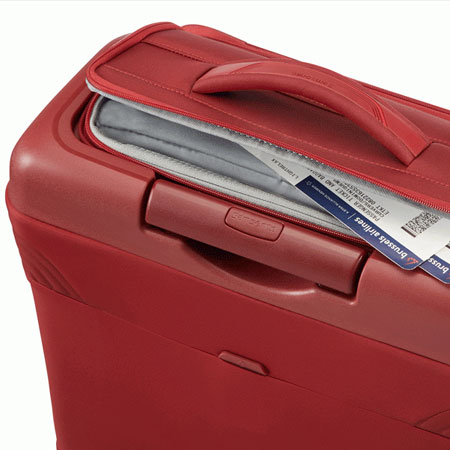 Smarttop's Samsonite carry-on luggage is designed for dynamic travelers who love to carry everything they need without loosing their capacity and functionality: other features of the line include lightness and durability, comfort during the trip thanks to two or four sliding and silent wheels, a metal cable closure securing  with a zip that pulls all together, the TSA combination.
The Samsonite Smarttop trolleys are available in black, blue and lively red tones, for those who like to stand out for their style even when the travelling.