Any woman have a shopping bag, first of all because this kind of bags allow  her to tackle long working days accompanied by a right degree of comfort and practicality without renouncing to enrich her outfits with a touch of glamour.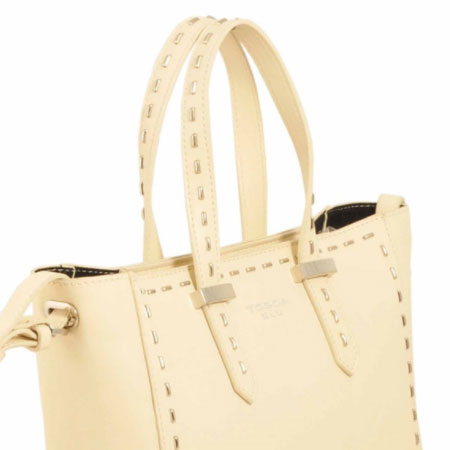 The Tosca Blu shopping bags of the Valerie collection are dedicated to dynamic and lively women who love to wear accessories with a linear style but with small sparkling details at the same time. The most important feature of this collection is the contrast between the simplicity of the model and the stitches highlighted by rows of small metal studs along all edges, giving it not only a touch of light but also a rock and chic style for each model.
The Tosca Blu Valerie handbags are available in two different sizes, both of them can be considered with a "double function" due to the fact that they can be carried either thanks to the two short handles or with an adjustable and removable shoulder strap for more comfortable portability. If the big size is perfect for leisure and work time, the small version represent a glamorous match with any style, for a casual evening or for a shopping afternoon.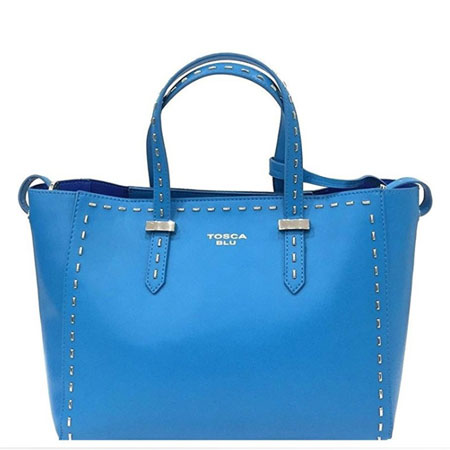 The Tosca Blu shopping bags of the Valerie collection are available in three different colors, all of them fit perfectly for the summer season. Beyond the ivory color, a true must have for all of the summer months, Tosca Blue offers also leather colors, (keeping its echo Country colour, a benchmarck for all the collections) and the turquoise one, in order to match the coolest look with a colorful one.
To fulfill  the Valerie style, Tosca Blu offers to its brand lovers a matched wallet with small studs along all edges and with the same shades of the shopping bag. These wallets have a zip closure and a folder opening, is particularly spacious, suitable for every day.
The Valerie collection embodies the firm but feminine character of Tosca Blu, completely dedicated to women who like to wear glamorous but functional accessories, for a fashion and concrete style.