Trussardi women's bags have always stood out for their elegant and delicate character, recognizable thanks to the presence of the brand logo that the models proudly display.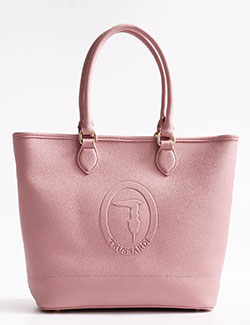 The particular details and refined colors make these products the perfect accessory to accompany every daily commitment but also an evening of relaxation and fun with friends.
For this Spring/Summer 2022 season, the brand offers several collections, all with a unique and inimitable style: the first of this is the Iris line, which includes many different models, suitable to meet all needs.
The shopping bag of this collection, for example, is a perfect accessory for every woman who wants to take advantage of the convenience of a functional and capacious bag without sacrificing the beauty and elegance of a stylish accessory, thanks also to the bright colors of the collection itself, such as pink and red.
This collection also includes other models such as the women's backpack with a particular round shape and various wallets with zip closure. In short, the proposals are many and all to be discovered.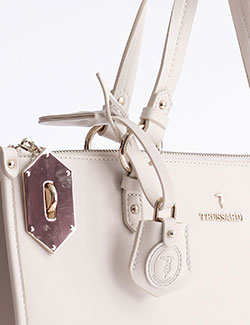 For those who want, instead, an original bag with unique details, the Peony collection provides the perfect solution, inside which it is possible to find products characterized by a particular metal plate for closure. To further increase the uniqueness of these women's bags, each model comes with a small padlock with key that can be added to your accessory. Also in this case there are many models available, such as the delightful shoulder strap with front flap, perfect for showing an always cheerful look.
A collection of models that certainly won't go unnoticed is Alyssa, which offers products in bright colors, such as red or orange, and with a particular quilted texture; among its models this line also includes a delightful bucket bag with single handle and drawstring closure, which proudly exhibits a lively and not at all trivial style.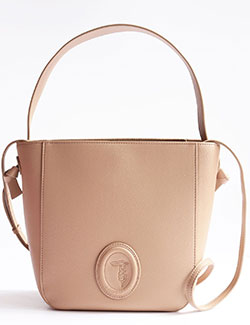 Moving towards lighter and brighter colors, such as beige and cream, the Amber and Ardisia collections are everything a woman could wish for to exhibit a sparkling but always refined look, also thanks to the presence of the Trussardi logo hot stamped on the front.
The hobo bag from the Amber collection, for example, turns out to be a particularly comfortable model thanks to its large compartment and shoulder strap, but it also shows a whimsical character that is impossible not to love.
As for the models of the Ardisia collection, here too we are spoiled for choice on which product to prefer to accompany our days: all these accessories are characterized by the detail of the front logo and a hammered finish that makes them incredibly chic and refined.
Therefore, the Trussardi handbags with their unique details demonstrate an elegance that is undeniable to say the least, which is cleverly combined with a jaunty style that never goes unnoticed.